We take pride in delivering first-class service to all of our customers.

Read what some of our satisfied clients have said about us !

Reyes Plastering was recommended to us by both Mac's Pool Supply and by some custom home builders we know. Reyes does both, replastering of existing pools and most of the original new plastering for many different local pool companies. After interviewing Alfredo Reyes and a few other competitors it was clear to see that Alfredo was the most professional, honest and best priced. In dealing with him, he always returned my calls promptly and did show up on time when he said he would. Actually he was usually thirty minutes early to all appointments or the starting of any task. Not only was his price the best, he also did the work faster than anyone else could even promise to do such. (A neighbor had an eight month ordeal with their pool replastering compared to our fast ten days.) They are very well organized, did the work quickly and cleaned up thoroughly. It actually only took them three days to do the job. One day to totally strip all the tiles and plaster, one day for all the tile work and then one day to plaster.

(Rick Waugh)

Alfredo,

A word of thanks to you and your company regarding the total remodel of our pool. The work exceeded our expectations and we couldn't be happier.  I really appreciate that you were always available to answer any questions & that you kept us updated on the schedule and progress of the work. It was really amazing to watch your experienced crew do the fine work they did. The thing that set you apart from the others who quoted was your knowledge, confidence and honesty and I can say you lived up to all of them. Thanks again and I will surely refer your company to family and friends.

Debbie & Bruce Jones

Alfredo- Thank you so much! We love our swimming pool! You are a great judge of character; all of your employees were a joy to work with! We were blessed by this wonderful experience!

Veronica & David Blossom 

Sylmar

Our pool was remodeled in July 2010 and we love it! I worked with Alfredo, and he was great at answering all my questions, helping me pick out new tile, and in providing support. He was very patient with all my questions, and quick to action any requests that I had. The whole process was a lot of work, but the end result is super and we have had many compliments on our pool.

Chris Brunner

I just wanted to say how happy we are with our new pool from Reyes Pool Plastering. We hired Reyes Pool Plastering to help us with the remodel and I can't tell you impressed we were with their work ethic, knowledge, and overall enthusiasm for the project.

Since the completion our family has enjoyed our remodeled pool daily...and we look forward to using it in the future. If you ever need a reference please contact us.

Thanks for all your help.

The Lamars

"You know me well enough to know that I say what I mean and I mean what I say. I believe you and your team to be well-meaning and honest people. Not to mention you re-build a superior pool with a proven and successful track record. And a streamlined process in place helping to manage timeline expectations throughout the remodel phase.  Your crew was not only competent, but equally, if not more important, courteous and accommodating.

In spite of the few glitches we encountered during our project, you and your team honored your commitments on all fronts and that caused me to gain a lot of respect for you.

Alfredo, I have only positive things to say about you and your company. I am definitely a fan......"

Regards

Melissa

Charles E.

Our experience with Reyes Pool Plastering has been very good. The pool was started and completed on schedule, and any obstacles along the way were handled promptly. We were offered a wide variety of options for finishing touches, and tile work. Reyes Pool Plastering delivered a quality product that our family will enjoy for many years. We truly enjoy our pool more than ever before.

Despite some minor hiccups I would like to compliment you and your team on the fantastic job and your fast response to rectify the issues. Our pool looks great and was complimented by loads of friends when we had a party at the weekend.

Thanks once again for a good job and please pass on our appreciation to all those involved.

Lisa and Brian Howard

Dear Reyes Pool Plastering,

Thank you so much for your assistance and honesty in the completion of our pool. It was truly a blessing to meet you.  The timely manner in which you completed our job, as well as your follow-up and guidance in our remodel process, far exceeded our expectations. It is with the highest recommendation that I would refer you to anyone.

Tina Russell

Reyes Pool Plastering is a fantastic company with excellent customer service and professional results. The difference in my pool now is phenomenal. But best of all I found Reyes Pool Plastering to be an honest company truly interested in meeting the needs of their customers.

Richard Morris

Alfredo,

Your guys did a great job on our pool and spa.

Joseph

We just wanted to take a minute and let you know how pleased we are with the pool that Reyes Pool Plastering re-modeled for us this year. It is simply beautiful. Your staff have been great about responding to questions. We would recommend Reyes Pool Plastering to anyone.

Samantha & Mark Houser

The sales approach of your staff was friendly, helpful, and we never felt like we had to haggle to get the right price."

Frank Boyd

Thank you for such a great job on the pool. We appreciated the professionalism of the work done and you couldn't have been more helpful.

I know you were probably frantic, but you always had time to sort out the small problems for us.

Thanks again,

Bob and Family (October 2009)

Friendly, prompt, professional…those are just some of the adjectives that come to mind when I think of my experience with Reyes Pool Plastering. From start to finish my experience was positive. The salesman was courteous and knowledgeable. The remodel went smoothly. The work area was kept clean and was run efficiently. I would gladly recommend Reyes Pool Plastering. Thank you for a job well done!

Sandra and Jason F.

"We love the pool! You done good! Thanks again."

Stuart P.

Effren and Alfredo,

We are so happy with our pool remodel, it looks like a brand new pool. We appreciated your suggestions and promptness. Your employees did outstanding work. We would recommend your company to anybody. Excellent job!

Tony & Susan Schwartz

We have experienced several negatives situations over the last year with contractors working on our home. It is very refreshing to work with a professional who is responsive, prompt and follows through on his commitment. The work you performed on our pool was done in a prompt and efficient manner, and it exceeded our expectations in terms of workmanship and cost. Thank you so much for your professional work. We will highly recommend you to our friends and family.

Amber and Tim Erney

After signing the paperwork there was no doubt in our minds that we had chosen the right company. You answered all of our questions and helped us make the right choices on all the details. When the work started we were pleasantly surprised at the precise, clean work that was done. Please thank all your employees that worked with us for the amazing job they did.

Palmdale

Kathy & Timothy

My pool is beautiful. We will enjoy it for years to come and it has enhanced the value of my home greatly. Your team did a wonderful job and has been very patient with me in teaching me some of the basics of the pool maintenance. I will definitely recommend your company to any of my friends or coworkers looking for a first-class company to remodel a pool.

Ellen

I wanted to let you know that I enjoyed working with Reyes Pool Plastering. Alfredo and I worked out a great deal for our inground pool. He was very informative and knowledgeable and responded very quickly. Our family has a great pool to enjoy for many, many years to come and we wanted to let you know how valuable an employee you have. Thanks again Alfredo!!!

Sincerely,

Adam Warren

"I think you guys did a super job. I'm a homebuilder myself and in the construction business and I think each and every one of your team were all outstanding. We're very happy with the pool."

Dave and Andrea Bishop

"The experience with Reyes Pool Plastering was good. We had an ongoing landscaping project that was very challenging and they worked well with the landscapers. We are happy with our pool."

Andrew Howard

"Overall it was a good experience. They were good professionals and the manager was great. They re-built a great pool and it was more than expected. Everything they said they'd do they exceeded that."

Robert

Thank you for the beautiful work you did on my pool! You stood by all of the promises you made. It is a pleasure to know that there are still business people as honest and dependable as you are.

Maria, Quartz Hill

They are very business-like.

Their work was good, completed on time and they continued to support.

They are very professional all the way around.

The Sudeman Family

Thank you so much for all of your help through my pool remodeling process. All of my expectations were met and exceeded. Alfredo was there to answer all of my countless questions and concerns. If you ever need a reference don't hesitate to use my name and number. Again thank you for everything and I look forward to doing business with you in the future.

Nate

Comment I just can't say enough about Reyes Pool. To Alfredo

and he's unbelievable crew, my pool turned out so Beautiful. The quality of your work was A+, and I felt like I've made friends for life. Don't shop around, Reyes Pools is the one to go too.Also, A big thanks to Mac's pool for their start up help and assistance.

WAYNE ANSTADT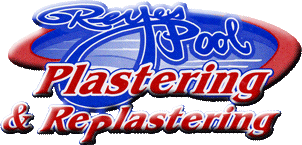 Reyes Pool Plastering & Replastering

Family owned Since 1990  - Licensed & Bonded State Lic. # 667184





Comment A great job! 

We checked with a number of people before and over whelming everyone told us Reyes Pool Plastering for redoing our pool.  Wow they did a great job.  Afredo did a great job in our first contact laying out the options.  He was straight forward and good to work with.  Arturo was great to work with during the process and Efren was very responsive to our needs.  The Reyes brothers do a great job.  All honest, understanding and work hard to please.  We went with Pebble Tec and are very glad we did.  The hardest part was picking the color and they accommodated in getting the color we wanted.  We are always happy to show off the pool so feel free to contact the office to schedule a time.

Appreciate all employees of Reyes Pool Plastering.  Thanks!!

Ken & Marj .